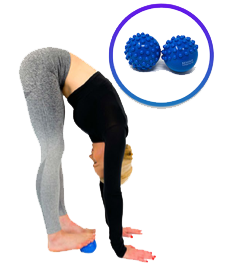 Myofascial Release Balls
Beyond Stretch myofascial massage balls can be used alone for any localized myofascial releases or with CoreBoot. These balls have two different surfaces to provide a dual experience. One half is smooth for gentle arterial release and for those with higher sensitivity before progressing to deeper sensory-rich drills. The second half has bumpy nubs for targeting deeper layers underneath the skin.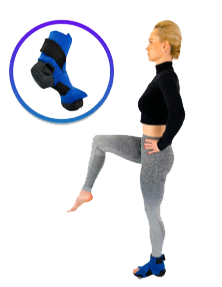 Core Boot
Core Boot can be used in several ways. Resistance bands alone can be anchored to either part of the foot to conveniently adapt the pull region in your functional training to activate diferent muscles in the feet. The two pockets in the core boot allow the balls to stay in place so you can address dorsi or plantarflexion - focused drils. Using a core boot with balls and rsistance bands alows you to train proprioception, dynamic stability & multidimensional strength simultaneously.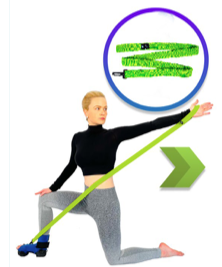 Multifunctional Resistance Band
Beyond Stretch Multifunctional Bands are versatile in resistance and usage. Their continuous loop design provides an easy way to manipulate your resistance. With the hooks on one end, you can connect each band to Core Boot for mindful functional training. Can be used alone for upper or lower - body training.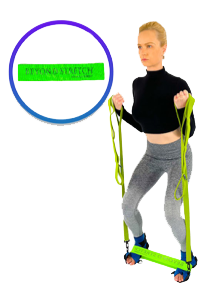 Mini Resistance Band
The Beyond Stretch Mini Resistance Band is versatile and highly effective. Can be used for stability training. Can be combined with the Core Boot to enhance training difficulty levels.
Core Boot is an innovative sensory-based training & rehab tool to address neurovascular and myofascial (muscles & fascia) systems health & performance.
What does it do - core boot benefits
What does it do - core boot benefits
» Releases arterial and fascial tension throughout the body, starting with the feet.
» Supports oxygenation & blood flow to soft tissues.
» Rehydrates heel and activates plantar fascia to improve loading patterns & lower body biomechanics.
» Improves ankle mobility & stability.
» Connects foot-ankle-knee-hip & core muscles to increase dynamic stability.
» Enhances sensory stimulation and body awareness in space.
» Helps to prevent injuries.
» Feet are the foundation of every movement and the gateway to our neurovascular and myofascial systems.
» This critical web of fascia, arteries & nerves frequently is the source of many persistent movement restrictions,
emotional blockages, and reoccurring injuries.
» Arterial health is essential for your muscle & connective tissue oxygenation. Fascia is highly innervated & the
most perceptual system.
» Core Boot can be used 5-10-15 minutes before training, game, or practice.
» Core Boot can be used as part of rehab.
» Core Boot can be used for several minutes immediately after taking shoes off to support blood flow &
rehydrate soft tissues.